A Busy Week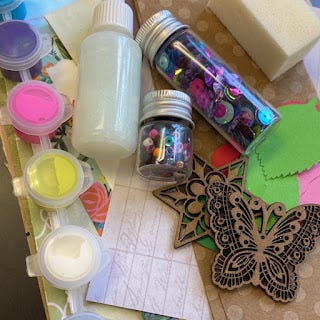 This past week was a busy one in the studio. I made a bunch of curated Mixed Media Starter Kits. I like making these kits because, I can share some of my favorite supplies and make a way for someone to be able to get started with mixed media and collage without having to go out and find all the different things and buy full packages of a lot of different supplies. These kits are also a great way to add new things to your stash if you already create in the mixed media style.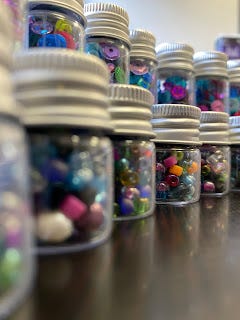 These little bottles were so fun to fill. There is a small bottle of beads and each bottle has two freshwater pearls in them. The larger bottles are full of what I love to call Mermaid sequins. These colors of these curated jars are very jewel tone and all coordinate.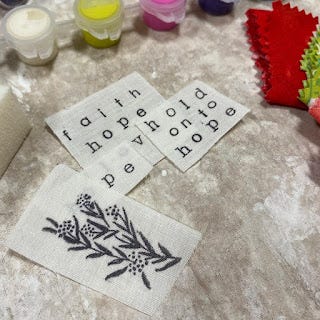 I also added a small selection of hand stamped fabrics that are created with archival inks so they will hold up to wet media. I love creating the hand stamped fabric with all the different letters that I have. There is also some colorful fabrics that are in the mix as well. 
Each kit also comes with 6 (six) paint pots of acrylic paints that are color coordinated with the other kit ingredients.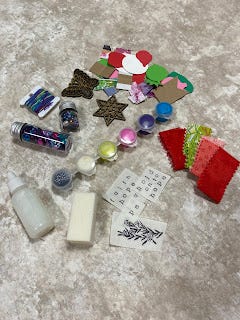 I have been collecting things from estate sales and other places as well as from my suppliers for these kits. So there is a good mix of new and vintage pieces in them.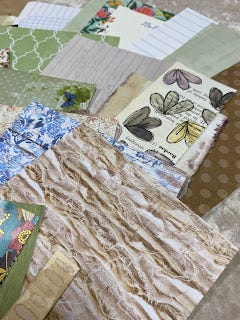 The papers in each kit varies because some are handprinted papers that I have created while teaching , ( I make way more than I could ever personally use), as well as vintage book pages, printed papers and more.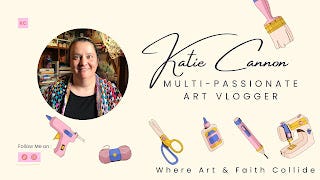 I also filmed a new introduction video for my YouTube Channel. It has been a while since I filmed an intro video. I also made it where you get a tour of my studio space and see what I am working on. I have truly embraced the "Multi-Passionate Artist" as my title. Because I never know what I am going to be working on next. I do have a rough plan of what I want to work on but what I am going to use to create it, is based on what I pull from my large collection of supplies.  So if you want a chatty video to listen to while you work, pop on over and give it a listen.