Discover more from Where Art and Faith Collide
A little bit of art with stories of life in the mix
The Things That Remind Me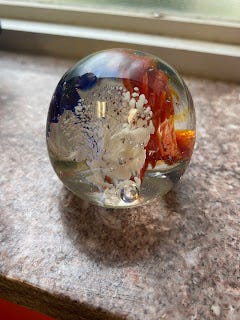 I have been moving things around my studio this week to bring a couple of things in and it made me think about what I have here that I can see when I am working at my desk. The are not always big things but they bring back memories. The paperweight at the top of this post brings back a lot of memories from my childhood. It was on every desk that my Mom had when I was a kid. if she changed offices or places it was one of the things that I always remember.  She would remind me when every I would picket up that it was fragile and not to drop it or it would break. She also warned me not to drop it on my toe because it was heavy and it would hurt pretty bad. 
I also remember just turning it and looking at the way the colors seemed to move inside the ball. Even the air bubble that meant is was not a perfect piece was interesting to me. It doesn't feel as heavy as I remember, because I have grown up but it still holds a lot of weight in the memories that it brings back to me. 
It is sitting right beside my laptop as I write this because I thought it would help me remember other things if it were in my line of sight. It is funny how things, objects that might not mean much to anyone else has the power to take you back to a moment in time and bring back some happy feelings. 
It has been almost 20 months that my Mom has been gone and I miss her everyday. So having little things that remind me of her is comforting because I feel like I have a little piece of her with me.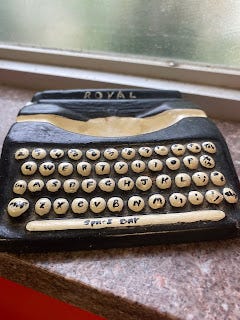 She always loved typewriters and I remember one year she had a different typewriter every month. The salesman would bring her a new one to try out and if she didn't like it after a month he would trade her another, she did this for a little over a year before she found one that she like. 
This little typewriter always held paperclips on her desk. It didn't realize until I was much older that really was an ashtray. My Mom quit smoking before I was born so I never knew her to use it as an ashtray, it was just a place for her paperclips. She would let me make chains out of them as long as I toolkit apart when I was done. I do remember one time she was upset with me because I forget to take them apart and just left them in one long chain, and she had to take them apart to use them.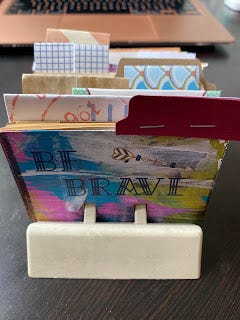 She never wanted to throw anything away if she thought someone could use it. She had this little rolodex that had never been used and when we were cleaning out her house I decided that I would do something with it. Even though it has never been used it was worn and old looking due to age. I have been trying to decide what to do with it for a while and yesterday I started altering it. I completed the tabs and started on the cards.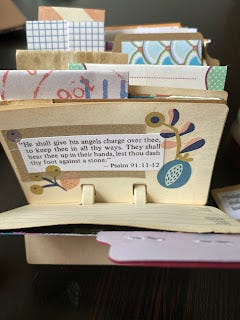 I am using things in my stash and from one of my Mixed Media Paper Packs to embellish the cards and add a scripture to each one. The one above I used some rub-ons and a bit of kraft paper.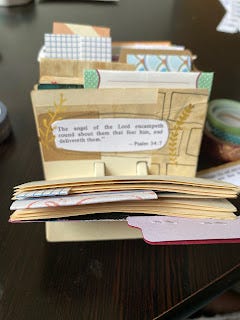 For this one I used some coffee dyed paper from my Mixed Media Paper Pack and s couple of gold rub-ons.  I was trying to go for a muted neutral color palette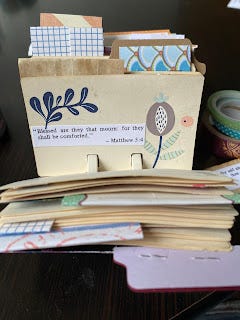 Instead of using another piece of paper behind the scripture I just left the card its natural patina color and added a few colorful rub-ons. 
I have finished 15 cards so far and I am thinking of giving this as a gift. I know that my Mom would have loved it. I have left the back of each of the cards blank so that if can be used for journaling as well.
Repurposing adds new memories to the item an so now an item that was never used can have new life as a positive reminder and share a scripture as well. 
If you didn't know I have a shop with lots of paper goodies.